ACE YOUR INTERVIEW
The Public Speaker's Guide To Ace Your Interview!
Welcome Message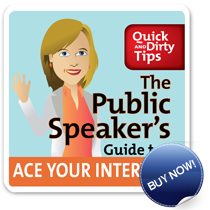 The Employment Game Has Changed!!
The number one complaint I hear from hiring managers and recruiters is that candidates are not sufficiently prepared. I don't think any professional, especially in today's market, purposely goes to an interview unprepared. I just think the employment game has changed so drastically that candidates just don't know how to fully prepare.
They don't know what they don't know.
In the book I explain how to avoid the most common interviewing mistakes and tell you very practical tips and techniques that will help you to position yourself as the
perfect fit
for the job. Specifically I cover 6 interview preparation steps to help you ace the interview and get the job you want:
Step 1 - Project a Powerful Online Image
Social and professional networking is dramatically changing how people go about finding jobs and preparing for interviews. To receive job offers in today's market requires an understanding of the many newer and fresher strategies that make you standout from the crowd, some of which you may find quite surprising. In step 1 you'll learn what gets you eliminated and what helps to convince employers to hire you.
Step 2 - Become an Interview Insider
In today's job market, the more prepared you are, the greater the chances you will have of saying "I got the job!" Step 2 teaches you strategies and techniques for discovering insider information about the interviewers, the company, and the opportunity.
Step 3 - Decide and Practice What You Want to Say
In Step 3, you'll learn a proven, practical, step-by-step process to create and refine targeted answers, or messages that relate directly to the specific position and company where you're interviewing. In this chapter you'll learn how to create and use a career accomplishments, goals, and experiences (CAGE) document and a Professionally Asked and Answered Questions (PAAQ) to facilitate your interview preparation process.
This chapter alone is worth the price of the book!
Step 4 - Practice Killer Responses
In step 4 you'll learn how deliver clear, concise and compelling answers to common interview questions that many people struggle with. For example, you'll learn how to answer, "Tell me about yourself" or "Tell me about your biggest weakness." You'll also learn how to structure the most effective persuasive responses to help you close the deal!
Step 5 - Ace The Telephone Interview
Today, phone interviews can easily get you knocked out of the race before the competition even heats up. In step 5 I'll discuss common phone interviewing mistakes and how to prevent them. This chapter expands on the previously aired
The Public Speaker episode
.
Step 6 - Create A Powerful First Impression
People quickly form strong opinions based on the signals our actions send. For example, did you know that others perceive walking slightly faster, as confidence? In the final step, step 6, you'll learn exactly how to create a strong, credible, professional initial impression.
The Public Speaker's Guide to Ace Your Interview
will give you the edge you need to get noticed and the confidence you need to get the job you want.
TESTIMONIALS
Rave Reviews!


It really helps if you leave a review on iTunes, Audible, or Amazon. Thanks!

"Lisa B. Marshall has assembled a detailed and useful plan that will make anyone a MUCH better interviewer. She has left no stone unturned in her mission to provide the listeners a step-by-step program that is guaranteed to unlock the greatest mysteries in searching for a job.

Her plan includes using social network sites as a real tool to market yourself electronically. In addition, her organization skills are evident as she combines PAAQ's and "EX" factors in a comprehensive approach to making you a much more formidable candidate for any position."

- John Contrevo, CFO, Develcom, NJ

- - - - - - - - - - - - - - - - - - - - - - - - - - -

"Too many good people fail to get the right job because they don¹t know how to prepare for the interview. This short, but powerful audio book can help change that. Lisa takes us through a six-step approach to interview preparation that is logical, easy to follow and highly relevant to an age where the internet social media are playing an ever more important role in the hiring process.

But a good audio book is more than just good content; it's great delivery as well. Lisa doesn't lecture us; she talks to us in a friendly and reassuring way that¹s easy to digest, builds confidence and inspires us to take action. A great addition to any job hunter's library."

Michael J Medlock. Director, Medlock Method Ltd. UK and Germany

read more
EXTRAS
Want to Learn More?
Visit the
FREE Resources
for the additional bonus material to help you prepare for your interview.
Coming Soon!!
An E-X-P-A-N-D-E-D e-book including: What to Wear, How to Talk About Salary, Handling Interview Rejection, and Navigating Meal Interviews plus tons of bonus content like tips for recent grads, resume/cover letter tips, and expert interviews. Subscribe to Interviewextras for "early bird" information and discounts.
Ace Your Interview Workshops. You'll learn hands-on how to prepare and practice for your interviews with the help of expert coach at your side. You'll create and enhance your online profiles, you'll create and review your CAGE, develop your PAAQ, have recorded practice sessions, and more. Subscribe to Interviewextras for "early bird" information and discounts.